About Us
Spectrum have performed some of Queensland's largest fireworks displays: The Bartercard Blast 2000 (Qld's biggest New Year's show) and Gold Coast Indy since 1999.
 Our Event Services
As event and pyrotechnic professionals, special effects supervisors and technicians for film and television with 20 years in the industry, we have the eye for detail and depth of knowledge to provide exactly what you need for your medium to large scale events.
We are proud to be known in Queensland and nationally as an "industry expert" – which is why we are regularly called upon by media outlets for comments and information. 
We use Australian made fireworks as well as imported which is of the highest quality. Spectrum carries full $20,000,000 public liability insurance (which to date has never been used).
See our Testimonials for some of the many great comments we've received over the years.
Meet the team
We're a multi-talented team of event professionals who are capable of delivering any event – from fireworks and outdoor cinema, to special effects and more. Whatever the event may require, we create magic for our clients every time. 
Chris Corbee
Managing Director
With over 24 years industry experience and with formal qualifications, Chris founded Spectrum way back in 1999.  With his technical genius and knack for developing innovative and creative solutions, Chris will find a way… not a way out.
Karen Soxsmith
With a background as an IT professional for 25 years, plus being a pyrotechnician since 1999, Karen is a bit of an all-rounder. She runs our admin, accounts, technical services, can run outdoor cinema and is a fully qualified and licensed pyrotechnician.
Nick Forbes
Nick has been with Spectrum since 2003 and has worked his way to become our head technician. He is also a great all-rounder within all three arms of the business – fireworks, outdoor cinema and SFX. Nick's attention to detail is second to none, which is brilliant in ensuring safety at events.
Bill Mason
As a licensed pyrotechnician for over 20 years, Bill has been involved with Spectrum for most of that time. His love of fireworks is nearly as big as his love of trains which means that he only works casually with us however he makes a big impact when he does.
Matt Gillies
Matt focusses his talents in the area of our fireworks displays. As a long term licenced pyrotechnician, Matt particularly loves a well-designed, well-fired display that wows the crowd.
Chris Schulz
Chris is an extremely versatile team member who can support fireworks, outdoor cinema or anything else we throw at him.  With a background in social services, Chris is also fantastic at reading crowds and behaviours which enables him to be great at communication and PR.
Our History
From humble beginnings in April 1999, Spectrum quickly rose to prominence by October of that same year when we won the contract to provide fireworks for the Gold Coast Indy.  It was a massive learning curve as the budget was 17 times larger than our biggest display before that time.  It immediately thrust us to national attention and less than 3 months later we were performing the largest display in Queensland for 1999/2000 New Year's Eve.
With our reputation sealed as being super-capable and able to adapt to any situation, in 2003 we were unexpectedly approached to design and produce an outdoor cinema concept.  This was accomplished and an incredible success, evolving into Spectrum winning multiple major contracts to deliver seasonal outdoor cinema projects for numerous regional councils and land developers.
All along Chris had been building and creating his own specialised equipment for unique events.  This, combined with his pyrotechnic expertise, lead to securing roles in film and television as a special effects technician and later supervisor.  These roles involve producing highly-detailed effects and equipment whilst navigating constant changes in circumstances and requirements. 
Our diverse team thrive on variety which enables us to balance and integrate fireworks, outdoor cinema and pyrotechnics + Specialist Engineering for Film & TV into amazing and memorable events.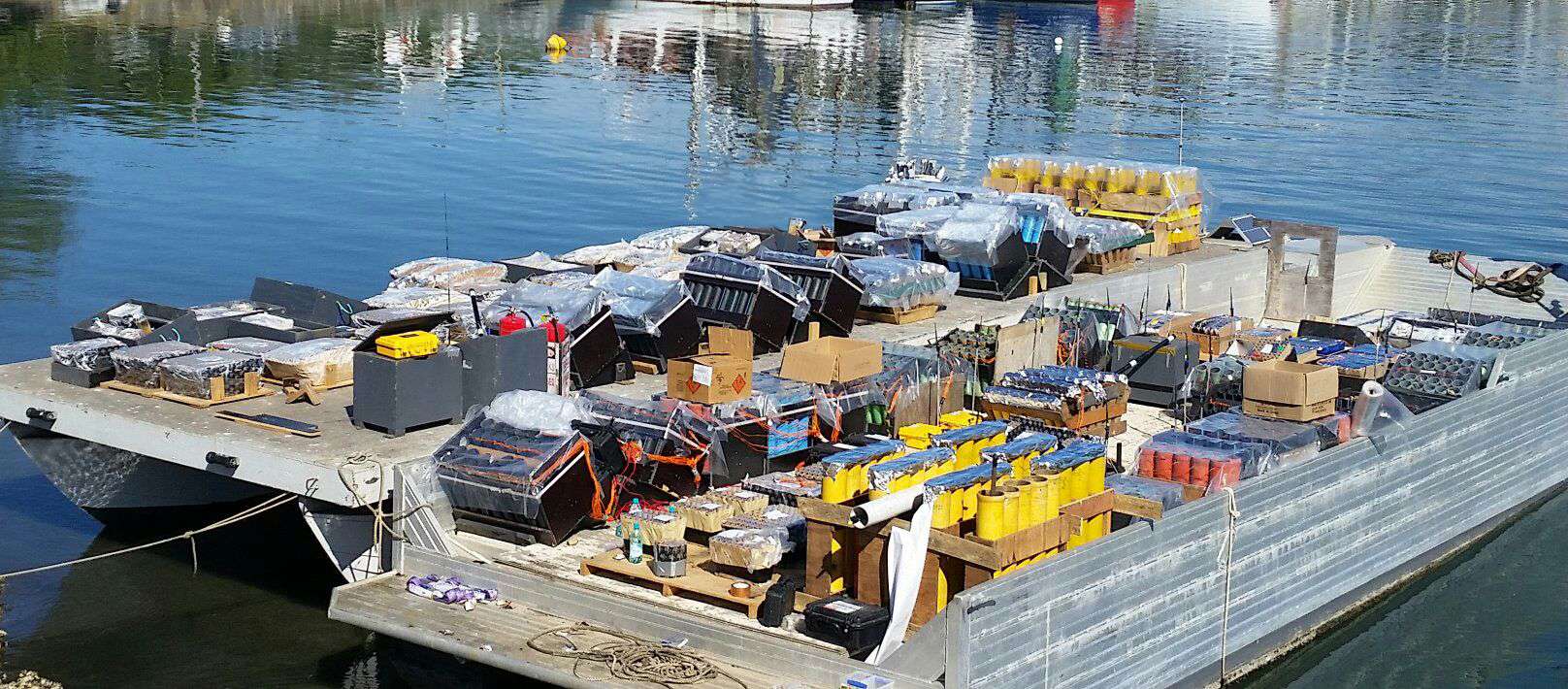 Just a few of our happy customers:
Outdoor Fireworks
Tweed Harbour Fireworks Challenge, Twin Towns Services Club *** 3 TIME WINNER!!! ***
Ballina Shire Council
Ballina RSL
"Bartercard Blast 2000" – Queensland largest "Millennium" display
Bluewater Festival
Broadbeach Alliance
Bruce Lynton BMW Charity Ball
Cancer Council Queensland
Chinese New Year (for Surfers Paradise Management Association)
Coca Cola
Coles Myer
Drake Foodmarkets
Ernst and Young
FAI Bathurst 1000
Fuji Xerox Japan
Gianni's Portside
Globe International
Gold Coast City Council preferred supplier
Gold Coast Indy / Super GP 1999 to 2009
Gold FM
Greek Paniyiri Festival, Brisbane
Hillstone St Lucia and Hundred Acre Bar
Holden Australian Open
Hot Tomato
Indy 300
Italian Festival
Lions Clubs
Lismore Lantern Festival
Michael Bublé concert
Moreton Bay Regional Council
Morgans Sunset Blue Function Centre / Waters Edge Function Centre
National Australia Bank
New Farm Carnivalé
New Year's Eve Cavill Avenue Surfers Paradise 1999 to 2018
Pauls Ltd / Parmalat
Pine Rivers Shire Council – Centenary of Federation Concert
Queensland Events
Riverside Reception Centre
Rotary Club
Sea FM
Stockland Developments
Surfers Paradise Management – 1999-2017
Surfers Paradise National Fireworks Championships (competition co-ordinator)
Tall Ship Cruises / McLarens Landing
Toyota
Tweed Shire Council
Twin Towns Clubs & Resorts
V8 Supercars
Westfield
Assistance with RiverFire 2004 (2 barges + electronics/programming for Storey Bridge)
Indoor Fireworks 
Brisbane Convention Centre
Brisbane Entertainment Centre
Gold Coast Convention Centre
Glengariff Historic Estate Winery
IGA Awards
Jupiters Casino
Marriott Hotel
Morgans Sunset Blue Function Centre
AC/DC Concert Tour
Big Day Out (Limp Bizket)
The Lyric Theatre
"The Hobbit"
Stefans Awards
Brisbane Lions AFL
World Rally Championships (WRC)